Learn to cook the local's way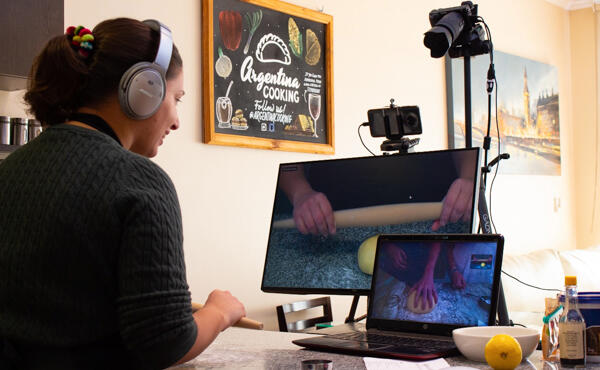 Premium
Private Cooking Class & Historic Market
Private: US$ 280, up to 4 people
(ask for larger groups)
---
Guided 1-hour visit to a 130-year old gastronomic market.
Learn to cook empanadas (dough and fillings from scratch) and Argentinian pancakes in a local's home. Experience the culture and culinary traditions.
Taste mate, alfajores, and malbec red wine.
Mon to Sat, 10am - 4pm (6 hours).

Premium wine and artisanal dulce de leche
Option to customize the menu and date/time.
Closed group.
_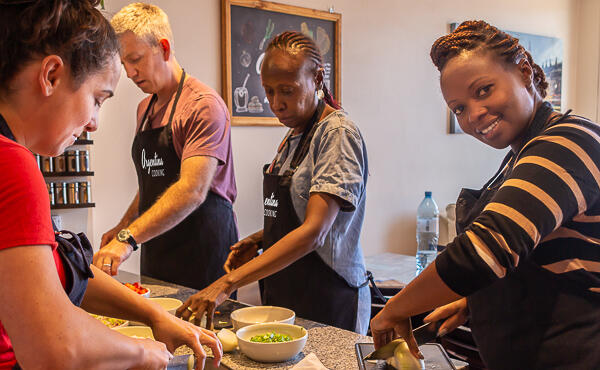 Top Seller
Cooking Class & Historic Market
Starting at US$ 70 per person
---
Guided 1-hour visit to a 130-year old gastronomic market.
Learn to cook empanadas (dough and fillings from scratch) and Argentinian pancakes in a local's home. Experience the culture and culinary traditions.
Taste mate, alfajores, and malbec red wine.
Mon to Sat, 10am - 4pm (6 hours)

Open group - small groups guaranteed.
_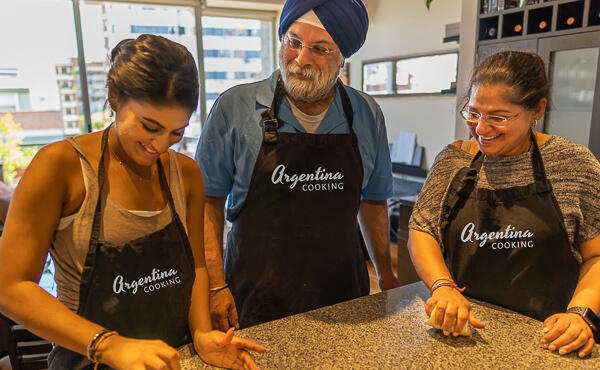 Standard
Cooking Class
Starting at US$ 60 per person
---
Learn to cook empanadas (dough and fillings from scratch) and Argentinian pancakes in a local's home. Experience the culture and culinary traditions.
Taste mate, alfajores, and malbec red wine.
Mon to Sat, start at 10am or 3pm (4h 30min)

Open group - small groups guaranteed.
_
Reviews
The experience with Shirly was a delight. She has a huge lot of knowledge about the people and the food culture of Argentina. Shirly is a natural host, but she goes out of the way to make her home a welcoming, comfortable space, definitely suited to the task at hand - cooking! I highly recommend this experience with Shirly.

~ Matthew from Houston, USA

We really enjoyed the whole experience it was such a good way to kick start our holiday! The cooking was amazing but the company was even better and we so appreciate all the information you passed onto us.

~ Laoise from Galway, Ireland

Super fun - the food was great. Shirly was super sweet and we had a great time talking with her. She's gave us great history and facts about Argentinian food and culture. Highly recommend :)

~ Leighton from Santa Barbara, USA

An amazing time. First time doing something like this and I'm very glad I did it. It was quite an experience and very education on a lot of things. Great start to your trip as Shirly can help you find some local things to do in Buenos Airies.

~ Benjamin from Florida, USA

This class was great! It was very personalized and we had a lot of fun cooking and learning how to make traditional Argentinian foods. I would definitely recommend this cooking class!

~ Gabriele from Germany

Great experience. Shirly welcomed us in her lovely apartment and had a wonderful time learning how to cook empanadas and pancakes. Got a taste of the "mate", some local wine, and "alfajores". The neighborhood is not touristic, yet very nice to wonder.

~ Martin from Oxford, United Kingdom

Uma experiência MARAVILHOSA! Shirly é uma professora incrível, simpática e com uma grande vivência cultural. Sua casa é muito aconchegante, o que torna a experiência ainda melhor. Comi as melhores empanadas durante minha experiência.

~ Wesley from São Paulo, Brazil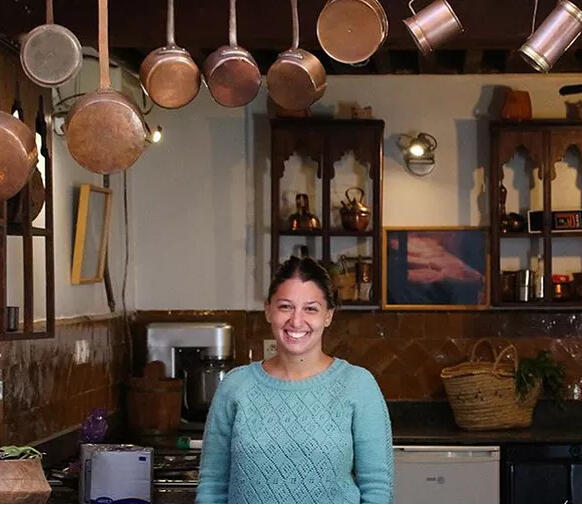 About
I'm a passionate teacher and food enthusiast, I love both eating and cooking great food and I enjoy traveling, learning new things and meeting new people.

I think getting a grasp on traditional cuisine is a unique way to get to know the history and the culture of a place and its people. I want you to have an experience that is fun and where you can learn about Argentine's customs from a local's point of view.

My work experience is in the education field, I have a degree in Social Communication and I'm a professor. I've decided to combine my love for teaching and cooking by making my kitchen the classroom. Ever since I was little I loved watching grownups cook, that's why most of the recipes I'll teach you I learnt from my parents and my grandma. I invite you into my home to share a delicious and typical Argentinian meal.
~ Shir
Cooking Class & Historical Market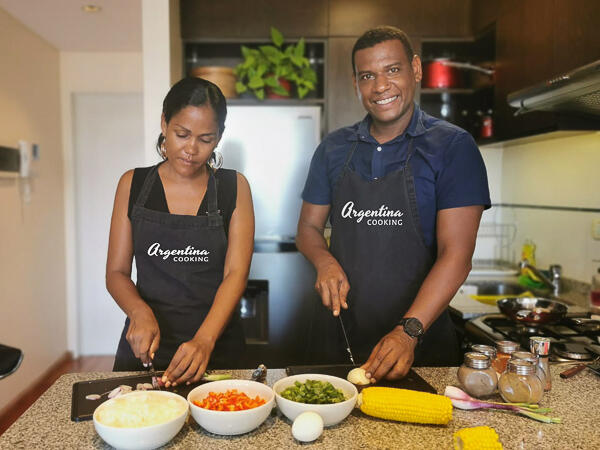 We'll start by visiting the Market of Progress, a 130 years old historic and still-functioning gastronomic market, where we'll pick fresh and organic ingredients for our meal, and occasionally get to try Argentinian treats. After that, we'll make a brief stop in the English District to contemplate its architecture, and finally we will arrive at my home for the cooking class.

In the class, we'll make meat and corn empanadas, both the dough and the fillings from scratch. You'll also learn how to make argentine style dulce de leche pancakes, which we'll enjoy for dessert. I'll accompany you each and every step of the way, showing you the proper techniques and explaining a little bit of the history of the dishes and the different culinary traditions in the country. Be ready to get messy, since it's a hands-on experience!

I'll welcome you first thing in the morning with our famous herby hot beverage, mate, and alfajores.
We'll make a short break where you'll get to try a typical picada, consisting of a salami and cheese platter.
Finally, once we've finished with the cooking, we'll sit around the table to enjoy the meal we've made all together paired with Argentinean red wine.

What's included
Mate & AlfajoresSalami and cheese PicadaMeat and corn EmpanadasDulce de leche PancakesMalbec red wineBottled waterCoffee/TeaCookware
What to bring
✓ Desire to get your hands dirty
✓ Empty stomach
✓ Be ready to enjoy yourself

Additional information
✓ The class is limited to 4 people, so it's always a small group.
✓ For private classes I may be able to accommodate more than 4 people, please ask me using the booking form.

Meeting point
Av. Rivadavia & Cachimayo, Buenos Aires, Argentina
You can easily get here by metro (line A or E), bus, or Uber/Taxi.

Price - Full Experience
1 person: US$ 802-4 people: U$S 70 eachPremium: U$S 280, up to 4 people (ask for larger groups).
The Premium experience includes premium wine, option to customize the menu, and custom date/time.

Price - Cooking Class Only (no market tour)
1 person: US$ 702-4 people: U$S 60 eachPrivate: U$S 240, up to 4 people (ask for larger groups)